The Suitcase Junket
October 15, 2022 @ 8:00 pm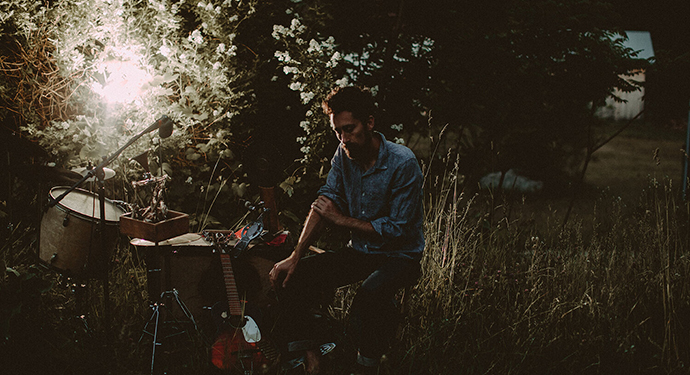 w/ special guest Al Olender
Tickets:
$20/non-member
$18/member
ABOUT THE SUITCASE JUNKET:
Matt Lorenz's vision, manifest in The Suitcase Junket, developed in the tension between the grand and the solitary. Grand in its imagery, sound, and staging. Solitary in its thrift and self-reliance. What instruments he requires, Lorenz builds from scratch and salvage. What parts five players would perform, he performs alone. The spectacle of his one-man set bears constant comparison to legends of showmanship, brilliance, madness, and invention.
While audiences are captivated by his solitary form and the show itself, Lorenz, who homesteads with rescue dogs and chickens in rural Western Massachusetts, is most serious about the songs. He has been building a catalog, writing a world into existence. Solitary on stage and on the road, his mind is crowded with characters, narratives, voices, imagery, sounds as wide and varied as mountain throat singers and roadhouse juke boxes, plus newsreels of the planet's destruction and salvage. With this 2020 release, The End is New, Lorenz's grand vision for the song overrides the how of it.
The End is New is an artist expanding his possibilities, collaborating, matching his lyrical power over eleven tracks with the epic sounds and narratives of his imagination. "Black Holes and Overdoses" riffs off the unrelenting news cycle, the numbness that wants for oblivion. "And Then There Was Fire" finds Lorenz reflecting on current events, inspired by the destructive wildfire in Australia, which seems like three years ago at this point, but took place right at the end of last year and beginning of this year. "Light a Candle" is the simmering doom of lost love. "Can't Look Away" protests the overuse of a planet. "Jesus! King of the Dinosaurs" is a romp poking fun at extremists and biblical timelines.
ABOUT AL OLENDER:
There's nothing scarier than being honest with yourself. For singer/songwriter Al Olender, facing her fear of the truth has been a cleansing, often cathartic process that's led to the kind of revelations she had previously thought unobtainable. On her debut full-length album Easy Crier, the Upstate New York based artist asks: what happens if we vow to never tell a lie, ever again? Charting the daunting territories of staring your demons right in the face and prodding at the ugly parts of your reflection, Olender pieces together her most vulnerable moments to produce a celebratory and beautiful rumination on grief, and reminds us of the power that comes in really getting to know yourself.
Easy Crier isn't an album about death. It's an album about unending love. It wipes away the mask we put on for others and instead, embraces the exhale that comes from spilling your guts. It's the moment in your favorite rom-com when they finally admit their feelings for one another, and kiss in a way that only seems to happen in movies; on Easy Crier, Olender plays both parts. There are moments of ease, and exploring the often fine line between funny and sad that makes Easy Crier a portal for relief, whether that's through tears of joy or pain. It's an album that takes each shattered, heartbroken piece and puts them back together to form a strangely beautiful mosaic. "It's a love letter to everything I've lost," she says. "And forms a real insight into how telling the truth has truly changed my life." Here, Olender is finally letting herself feel everything all at once, no matter how uncomfortable or scary it can be.