Seussical Kids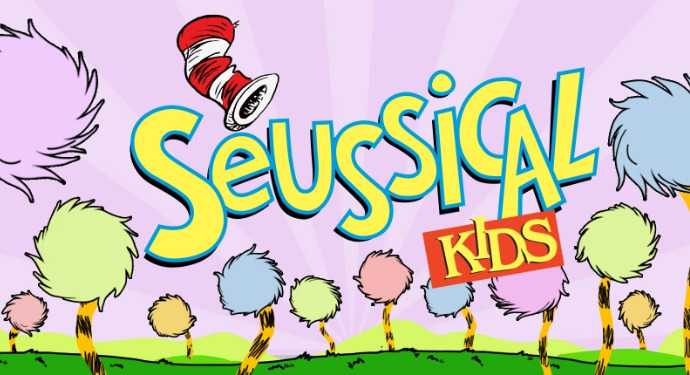 $15/Adults
$10/Students & Seniors
Produced by Acting Out Productions
Seussical Kids
Directed by Deirdre and John Budzyna
Horton the Elephant, the Cat in the Hat and all of your favorite Dr. Seuss characters spring to life onstage in Seussical KIDS, a fantastical musical extravaganza from Tony-winners, Lynn Ahrens and Stephen Flaherty. Transporting audiences from the Jungle of Nool to the Circus McGurkus, Seussical Kids tells the story of Horton, an elephant who discovers a speck of dust containing tiny people called the Whos, including Jojo, a Who child, who gets in trouble for thinking too many "thinks." Horton's challenge is twofold — not only must he protect the Whos from a world of naysayers and dangers, but he must also guard an abandoned egg that's been left in his care by the irresponsible Mayzie La Bird. Although Horton faces ridicule, danger, kidnapping and a trial, the intrepid Gertrude McFuzz never loses faith in him. Ultimately, the powers of friendship, loyalty, family and community are challenged and emerge triumphant!
Seussical KIDS is great fun for the whole family. Featuring Two casts of local student performers. If you are coming to see a specific actor, be sure to choose the correct performance.
Cast A (May 6, 10am; May 7, 7pm)
Chloe Augen, Mia Acton, Em Botto-Hanson, Christopher Carney, Caela Farrell, Elyse Farrell, Harris Galoski, Brooke Kobzik, Eve Kobzik, Nora Kobzik, Brightly Laansma, Kathryn Langille, Audrina Lazarus, Jade Leblanc-Yung, Nancy Moore, Maggie Moriarty, Brooklyn Murphy, Helen Ober, Grace Runnals, Isabella Schwarzkopf, Lilah Stroeher, Elle Sullivan and Lukas Sutton.
Cast B (May 6, 12pm, May 7, 2pm)
Addisyn Bagnall, Maddie Beams, Victoria Busby, Christopher Carney, Riley Caulfield, Leah Caulfield, Eliza Cheever, Louisa DeGrano, Sevilla Emmons, Mae Estrin, Ruby Kelliher, Catherine Kelly, Sarah Lyman, Colin Makin, Oliver Makin, Elspeth Mercer, Maggie Moriarty, Mia Roach, Aria Slocum, Alice Schwab, Elaina Trovato, Isla Tulsky and Sofia Waldon.