13 The Musical
May 3, 2019 @ 7:00 pm

-

9:00 pm

$18 – $20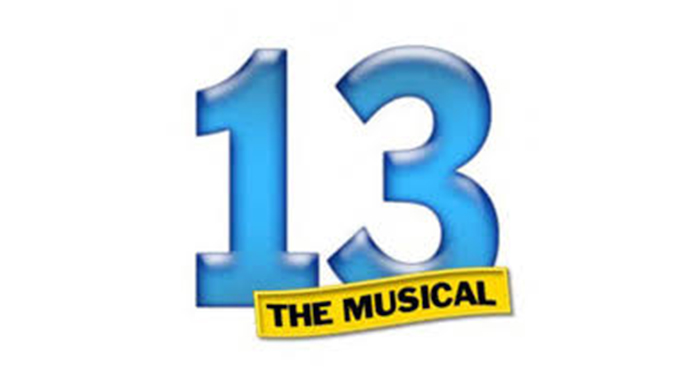 TICKETS:
$20.00 Adults
$18.00 Students, Seniors, Members
13 The Musical: Music and lyrics by Jason Robert Brown, Book by Dan Elish and Robert Horn

Geek. Poser. Jock. Beauty Queen. Wannabe.  These are the labels that can last a lifetime.  With an unforgettable rock score from Tony Award-winning composer Jason Robert Brown (HONEYMOON IN VEGAS, PARADE, THE LAST FIVE YEARS, BRIDGES OF MADISON COUNTY, SONGS FOR A NEW WORLD), 13 is a high-energy musical about fitting in – and standing out!
Evan Goldman is plucked from his fast-paced, preteen New York City life and plopped into a sleepy Indiana town following his parents divorce. Surrounded by an array of simpleminded middle school students, he needs to establish his place in the popularity pecking order. Can he situate himself on a comfortable link of the food chain… or will he dangle at the end with the outcasts? Come find out!
Special opening show pricing – $13 for students for Thur. 5/2, 7:00pm.  Note: Select "Student $18.00" and your cart will show $5 discount
The Cast of 13 includes (in alphabetical order):
Matt Bazenas, Molly Bernard, Juliet Brzozowski, Sadie Cacho-Negrete, Natalie Caccivio, Lucy Cameron,  Liz Conrad, Maddie Desimio-Maloney, Timmy Duggan, Sebastian Freeman, Caitlin Gagnon, Talia Goodman, Hanna Gustafson, Olivia Gustafson, Will Hopwood, Massima Iacobucci, Lucy Jones, Cole Kenyon, Anya Malis, Lily Martino, Anabel Moda, Isabella Riethmueller, Jessie Rosenthal, Gabe Rundlett, Aria Scannell, DeShawn Standard, Emilia Tagliani, Jonas Trach and Tiegan Trach.
Produced by Acting Out Productions in Repertory with "The Great Fairy Tale Caper" by Jack Neary
Directed by John and Deirdre Budzyna, Music Director Alisa Bucchiere.
Children 2 and under do not need to purchase a ticket, however, as all seats are reserved the child must stay in your lap at all times.