Lula Wiles
June 23, 2019 @ 8:00 pm
$15 – $20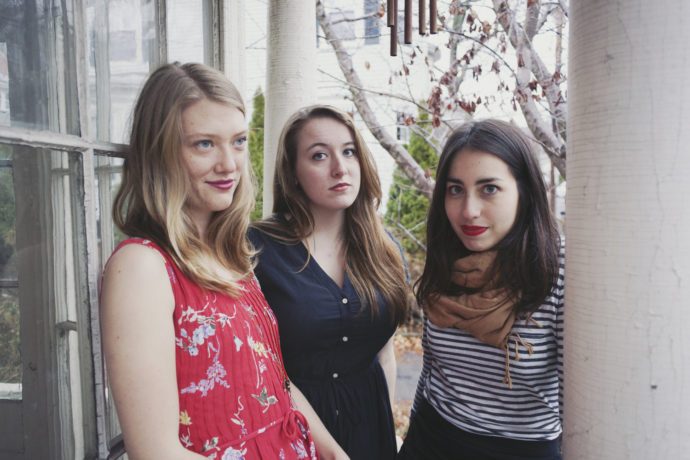 With opening act Dan Blakeslee
"Lula Wiles are pushing the boundaries of Americana, crafting narrative lyrics that are just as detailed and complex as their tightly woven harmonies… The result is brilliant." – Sound of Boston
TICKETS*:
$15.00 In Advance
$20.00 Day Of
*Firehouse members receive a 10% discount
What will we do? For Lula Wiles, the trio made up of Isa Burke, Eleanor Buckland, and Mali Obomsawin, the question is central to the creation of their music – and it's the title of their new album. "We wanted to make an album that reflected, in a current way, what we are all staying up late thinking about and talking about over drinks at the dinner table," says Obomsawin. "What is everyone worried about, confiding in their friends about, losing sleep about?" On What Will We Do, the band's sophomore album, the trio's voices burn, twist together, mingle, and rise like smoke signaling changes to come. But anchoring that delicate touch is a mastery of folk music – and a willingness to subvert its hallowed conventions.
Long before they were in a band together, the members of Lula Wiles were singing folk songs and trading fiddle tunes at camp in Maine. On those warm summer nights, playing music was just plain fun. But the members of Lula Wiles carry those early lessons of community and the meaning of shared art with them to this day, as they seek to create music that questions cultural virtues, soothes aching wounds, and envisions a better world.
Lula Wiles came of age in Boston, in the practice rooms of Berklee College of Music and the city's lively roots scene. In 2016, the band self-released Lula Wiles, a sensitive, twang-tinged collection of originals. Since then, they have toured internationally, winning fans at the Newport Folk Festival and the Philadelphia Folk Festival, and sharing stages with the likes of Aoife O'Donovan, the Wood Brothers, and Tim O'Brien.
Dan Blakeslee
With a suitcase of songs, Maine folk troubadour Dan Blakeslee ventured into the smoke laden subways of Boston in 1995 to practice his craft. His songs of true life adventures combine the essence of early folk music with a dose of country grit. He has toured the U.S. and performed with Josh Ritter, David Wax Museum, Lydia Loveless, The Lumineers, Old 97's, Sean Rowe, The Black Lillies, Liam Finn and Kimya Dawson among others. In 2015 his dream of playing Newport Folk Festival became a reality, the location where Bob Dylan went electric 50 years earlier. Dan Blakeslee delivers his songs with that same heart of a young, lyric scribbling troubadour, who knows because he's tried it, can out sing a passing train.
Take a Listen: